Taylor Rose-Allen LPC-MHSP(temp)
Taylor has spent the majority of her life in Nashville, TN. She holds a Bachelor's degree from Belmont University in Religion & The Arts, as well as a Master's Degree in Clinical Mental Health Counseling from Trevecca Nazarene University. Before beginning her career as a counselor, Taylor owned her own company employing and working with sexually trafficked women in Cambodia. 
Taylor takes into account the brain + body connection in all therapy practices, understanding that one cannot be healed without the other. Through neurobiological techniques and interventions, she works to help relieve trauma, mood, and attachment symptoms that can distress everyday life.
• Boundaries
• Sexual Assault/Abuse
• Attachment Issues
• Depression
• Anxiety
• Mood regulation
• OCD
• Grief/Loss
• Trauma (sexual, emotional, physical, spiritual)
• Relationships
• Desire for sense of self/identity
She uses EMDR, Brainspotting and Individual EFT as well as integrate 
Attachment Theory,  Schema Therapy, IFS parts work, and Neurobiological Psycho-education. 
Taylor is licensed in Tennessee.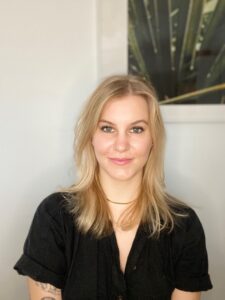 Contact Taylor Rose-Allen LPC-MHSP(temp) now...