Tim Mallory, MFT
Tim enjoys family therapy and working with high conflict couples. He's a graduate of Indiana Wesleyan University, with a Master of Arts degree in Marriage and Family Therapy, and is working under supervision as he pursues his Indiana MFT Licensing. His passion is working with teens, couples, and families through conflict and crisis. Change is often difficult, so his role is to work alongside each client as they navigate through challenges on the way to the life they want for themselves and their loved ones.
He takes a collaborative approach to set and work toward achieving your goal. Because each person is the expert on his or her life experience, he believes each person has within them the tools necessary to learn and grow toward a brighter future. It is his privilege to facilitate introspection and encourage movement toward meaningful solutions. He tends to work from a solution-focused, emotion-focused, and systems orientation.
Tim has discovered a love for Brainspotting and is becoming an adoption competent therapist.
Tim is licensed in the state of Indiana.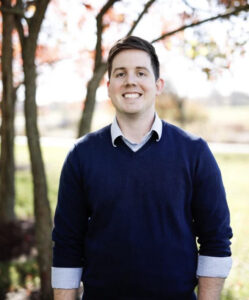 Contact Tim Mallory, MFT now...